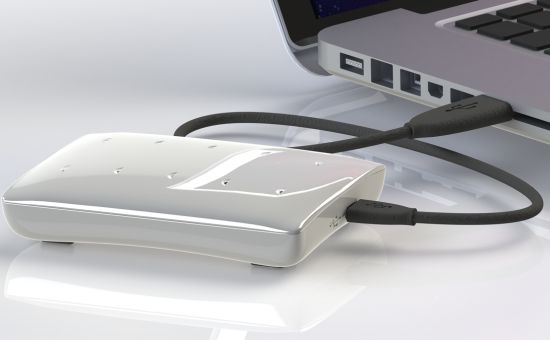 John David Eggleston, a third year Industrial Design student at Swinburne University, has come up with Portable Hard Drive concept to help gadget fans to carry their data with extreme ease. With a definite focus on aesthetics and users' ease of operation, the concept hard drive flaunts a sleek and compact design. You might feel intrigued by clean lines and organic curves that add volumes to overall appeal of this device.
John says,
Major design considerations were wall thickness, snap fits, material suitability, tolerances and line of draw.
A stylish array of LED lighting indicates drive functions. Other design aspects include bountiful use of injection molded acrylic light pipes through the creation. As far as technical specifications are concerned, the designer doesn't have much to say about it. Still, the design is more than impressive to say the least.
Eggleston's Portable Hard Drive may take some time to move out of the concept phase. However, if it does so, it will help users carry their data wherever they go.
[Cheers, John David Eggleston]