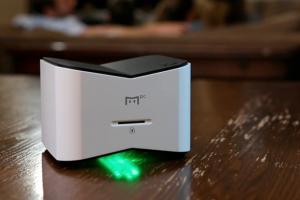 MiiPC is a device for personal computing that looks extremely stylish and is very compact in design. However, it comes with a twist: It runs on the Android operating system (Android Jelly Bean, v 4.2) by Google Inc. that powers a whole range of mobile devices these days. The MiiPC device can connect to a television or a computer monitor, turning it into an ideal platform for productivity, media consumption and e-learning. With an ability to support large screens and being able to connect to a mouse and keyboard, it provides the traditional personal computer-like experience. Since it runs Android®, it can run a whole bunch of android apps, be it for document editing, media playback, gaming or just for surfing the Web.
How to keep children under check using MiiPC
The MiiPC device is an ideal solution for parents whose kids are constantly engaged with their mobile devices throughout the day. It handovers the control of the device from the child's to the parent's hand. This is done through a set of tools provided with MiiPC. To start with, MiiPC comes with a free smart companion app that can be used by parents on their iOS- and Android-enabled smartphones to restrict the usage of MiiPC by kids using a set of guidelines. The app can be used to restrict Web access to just some specific websites, and it provides monitoring for parents in real time. The MiiPC device is also packed-in with a feature for time management, which can be used by high-school children to improve upon their productivity by getting feedback on their device usage.
How technically sound is the new device
The MiiPC device boasts of pretty decent technical specifications, such as the Marvell New Armada dual-core processor clocked at an operating frequency of 1.2GHZ, 1 GB of RAM, and 4 GB of internal flash-based storage that can be expanded by using the provided SD card slot or the USB port. On the connectivity front, it provides options like WiFi, 10/100Mb Ethernet and Bluetooth 4.0. It has two USB 2.0 ports, a microphone and speaker jack, and an HDMI port that produces 1080p/720p output. The MiiPC packages come with a main unit, quick-start guide and power adapter. The HDMI cable, keyboard, mouse and monitor are also available as separate accessories.
The true desktop experience on MiiPC is brought about by a host of features, such as optimization for blazing-fast Web surfing, support for flash content, desktop customization, support for high-resolution screens, multiple user support and buttery-smooth video playback. It also comes with an array of productivity software, including Splashtop2, eReader, a multimedia player, KingSoft Office suite, etc.
The MiiPC device is really innovative in the sense that it's a compact unit that supports the parents' efforts to keep a track on their children's usage of several online activities.