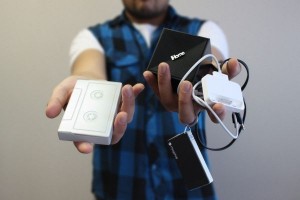 The product
Alright, here's something really innovative for users who were searching up and down to make their favorite tunes portable while reliving the old fashioned audio cassette tapes. Although the amalgamation of those little rectangular plastic cassette tapes and portable music sounds unusual, the new project by Indiegogo shows exactly that. Interestingly, the company has just unleashed its latest Ugo docking charger, which not only lets users listen to their music, but also allows them to recharge their smartphones and other devices with utmost ease. Designed intriguingly, the portable docking charger comes equipped with a powerful high-quality speaker that enlivens the nostalgic flair of audio cassette cases.
Benefits
The beautiful looking yet conventional Ugo basically brings you three devices in one compact package – merging the features of a docking charger, battery pack and wireless speaker. As an ardent user, you will be indulging in sounds that are more balanced and a wider range of frequencies for your love for music, while the integrated docking capability will enable you to charge your device at the same time.
What makes it so special?
Apart from the intriguing body design that Ugo comes rested in, the docking charger catches utmost attention for combining the abilities of battery pack, wireless speaker and docking charging into one compact form factor. The peripheral grabs a few extra points for its rectangular plastic cassette tapes enclosure and embedded Bluetooth capability for enhanced convenience. Unlike most docking chargers, Ugo is designed to be truly special which further gets better with the deeply rooted Airplay technology.
The change it'll bring in
Ugo unremittingly looks enthusiastic to transform the way you listen and control your music wirelessly. Whether you want to tap your feet on peppy tunes, charge your smartphones, or simply watch videos in landscape mode, the docking station makes almost everything 'possible'. The 3-in-1 wireless solution is surely a new way to reload your portable devices while lending an ear to those favorite songs or videos. And yes, there's a long lasting ion-lithium battery as well to save you from the dark days. To grab your Ugo, you can simply head towards the official website of Indiegogo!