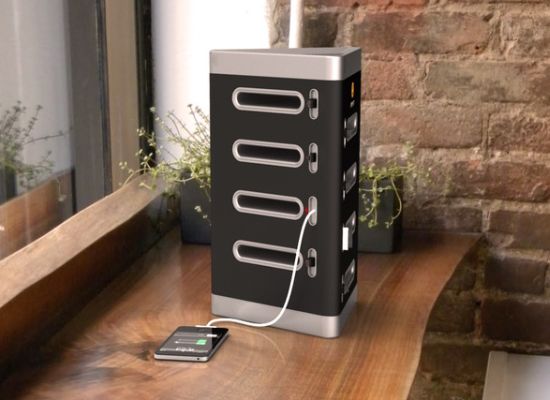 Offering access to your mailbox, social networking sites and weather updates, apart from regular mobile Smartphones nowadays have become an integral part of our lives. With almost all the members owning a Smartphone in a family, we usually fall short of energy outlets to plug chargers and juice up our mobile handsets individually. Offering a solution, here is a universal multi Smartphone charger, called the "Life-Spot," by Judith & Aaron Altheim that can juice up eight mobile phones simultaneously from a single outlet.
Compatible with all devices with micro USB outlet (iPhone, Samsung, HTC, Blackberry, LG, SONY, etc.) 4 micro USB ports, the Life-Spot incorporates eight built-in easy to use retractable cables and eight integrated inserts/pockets and can be placed in your kitchen, living room, work place, any waiting area, coffee shop, bar, restaurant, beauty salon, etc.
Available in both counter top and wall mount versions, the high efficient Smartphone charger also includes an LED status indicator to tell the battery status of your cellphone. Measuring 11.75 x 6.25 x 6.25″ (HWD) just weighs 2.25 lb.