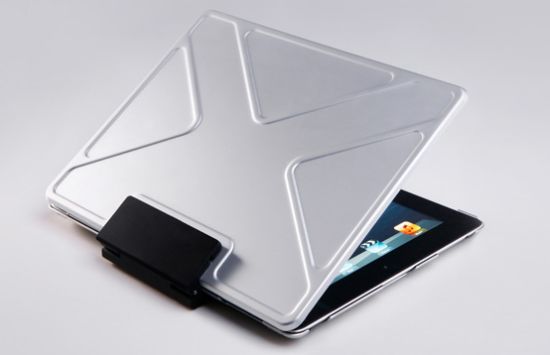 Usually iPad cases are made of plastic that definitely look sleek and stylish but they don't allow full protection to your cherished tablet. Providing complete protection to your iPad, Innopocket has come up with an aluminum case called the "Tank" that is not only light, minimal and functional, but also shock absorbing and pressure resistant, which goes aesthetically well with Apple devices.
Enhancing the mechanical features of your iPad, the aluminum case is designed to provide ultra protection to all parts of your iPad, including touch-screen corners, ports as well as side buttons. Integrating two aluminum shells and an ABS clasp to rotate the top shell at 360 degrees and conceal it behind the iPad, the ultra-light case nestles your tablet elegantly at the bottom shell which is designed to wrap around the iPad.
Lined with an ultra thin polymeric membrane within to absorbs the contact between the two metal shells, the Tank iPad case presents a 1.25 mm raised cross pattern to prevent scratches and pressure on the screen in standby mode. In addition, you can transform the Tank case into a stand by simply rotating the top shell for reading, writing, viewing movies and video calling. The aluminum iPad case is compatible with iPad 2, new iPad, and iPad Retina.