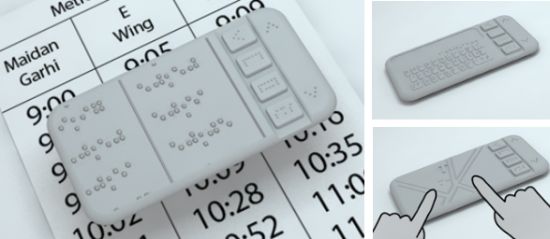 Due to the lack of supportive gadgets or technology, visually impaired people have to live an isolated life, in this so-called hi-tech world, and rely on others to get informed about the things going on around them. Perceiving a bit better life for the visually impaired, Indian designer Sumit Dagar has come up with a Braille phone that uses a haptic touchscreen to let the blind users feel or experience the information on the display with their fingers.
Winner of the 2012 Rolex Award for Enterprise, the Smartphone for the visually impaired makes use of height mapping to project information in different modes, together with textual (Braille), images/animations and videos, to bring blind people to the mainstream by enhancing their experience. Designed to replace retrofitted, inefficient and overpriced products, the new Braille phone will provide an innovative platform for easy and effective communication to the visually impaired.
Developed in collaboration with Indian Institute of Technology Delhi and LV Prasad Eye Institute (LVPEI), an Indian eye health center  the Braille Smartphone presents words and numbers, moving up and down, in Braille, so the user can touch and recognize them and locate numbers and names. Integrating a number of pins, popping out from its surface to form Braille words and numbers, to the touchscreen, the Braille phone presents an efficient design which makes it affordable for differently abled users.
Via: SciDev