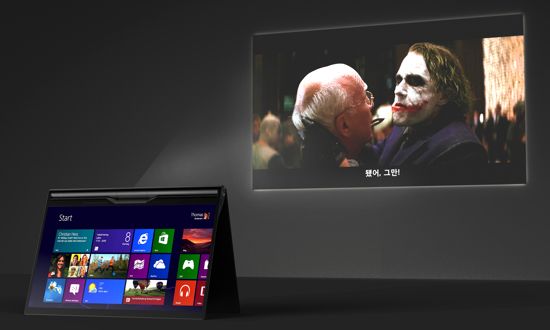 Businessmen have to carry a number of devices with them on business trips for superior presentations to spread their trade. Addressing the issued, South Korean designer Jongha Lee has come up with a multifunctional system that becomes a tablet, PC or a projector to accommodate the varying needs of the user. Hailed as "Veam," the Tablet PC reflects the image of a suit and touts a modern and sleek design.
Featuring the body finished in black anodized aluminum and the cover in soft/matte silicon type material to prevent any scratches, the tablet PC with projector presents a slightly tilted design to offer better use of the touchscreen. In addition, you can lean its cover backwards to be used a tablet PC, while the built-in projector lens turns any flat surface into a touchscreen or virtual control interface. So you could drag down a program or memo out of display and use it on the surface.
Users can easily aim and project with the "automatic projection," for the perfect angle and focal point on the target wall is calculated with the help of a sensor to project secondary screen onto the wall mechanically.  The projector allows a dual screen function, as you can watch movies on the projected screen and surf around the net on the physical touchscreen.
[Cheers Jongha]