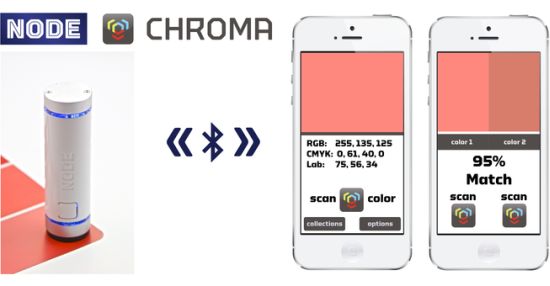 Colors, be they natural or artificial, are an integral part of our everyday life, for they make life more lively and cheerful. Adding more color to our life, designer George Yu has come up with a Bluetooth color sensor that can scan any surface color into iOS apps more accurately than ever before. Hailed as "NODE Chroma," the new color sensor creates a module for exploring and capturing the best colors that we see or come across in our day-to-day lives.
Capturing colors with white LEDs, a photo sensor and an end cap that blocks out ambient light, the Chroma further translates colors into color codes, so users could store them in their Smartphone for future use. To capture any color and process the data into a color code or value, all you need to do is remove the surrounding light and project Chroma's white LED light onto any flat surface to let it bounce the true color back into the light receptor where sensors generate the color code.
Powered by Lithium Polymer battery, the Chroma is compatible with Bluetooth Low Energy Devices, such as iPhone 4s, iPhone 5, new iPad and iPad Mini. Apart from gathering colors while walking down the street or market place, the Chroma can also be used for quality control, revamping your home and manufacture specific items.
Via: Kickstarter