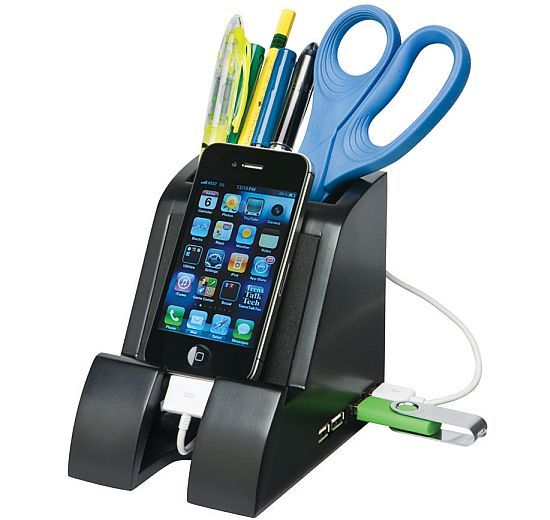 You may have seen or used some of the most innovative and elegant desk organizers in your home or office, but the Smart Cup by Craig Riley is a hi-tech accessory for your workstation that not only displays and charges your Smartphone but also connects to your computer. Capable of holding a Smartphone, e-reader or tablet with ease, the trendy desk organizer offers adequate space to keep your pen, pencil, rubber or even a second phone at arm's length.
Integrating a 4 port high speed USB 2.0 hub, the pencil cup can charge different mobile gadgets by connecting to your computer with a Mini USB cable. In addition, the new desk organizer lets you transfer data to/from flash drive, cellphone, PC and other mobile devices. Hooking up to a wall outlet with a 5V AC adapter, the Smart Cup lets you charge non-Apple devices away from your workstation, while an integrated access channels at the bottom manages the cord in an elegant manner.
Measuring 4.75 X 5.5 X 5″ (WDH) in dimensions, the desk organizer also hides a "Cord Keeper" at the rear to store extra or idle cables, removing all the clutter from your desktop. The Smart Cup features a wooden structure with black matte finish and includes soft pads within to protect your gadgets and accessories.
Via:  Kickstarter