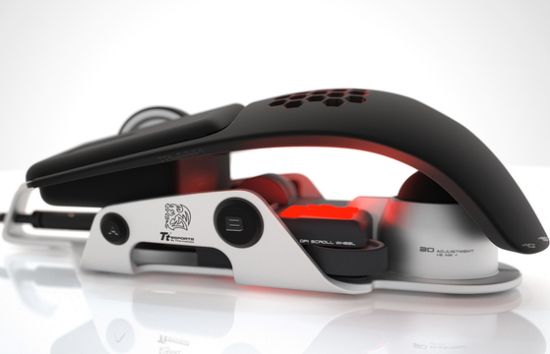 Designed by Thermaltake in close collaboration with BMW Group DesignworksUSA, the Level 10 M gaming mouse, which was announced at Computex this year, has finally hit the stores. Flaunting a hollowed-out design, the $99 mouse is a treat for precision-minded gamers. Up for grabs at online sites and brick and mortar stores, the futuristic-looking mouse hasn't yet reached Amazon or Best Buy.
Users may adjust the top part of the mouse for height and lateral inclination by using the centrally placed steering function. Since gaming sessions usually go past hours and even days sometimes, designers made sure that the hollowed-out part provides enough ventilation. The mouse is made from corrosion-free solid aluminum, normally used in aeronautics and architecture. Inbuilt software is there to read out Dpi-rates (from 200 to 8200) for gaming visuals. Other features include 11 programmable command keys and seven lighting-effect color options.
Please let us know about your opinion of the mouse design through your comments.
Via: Mashable