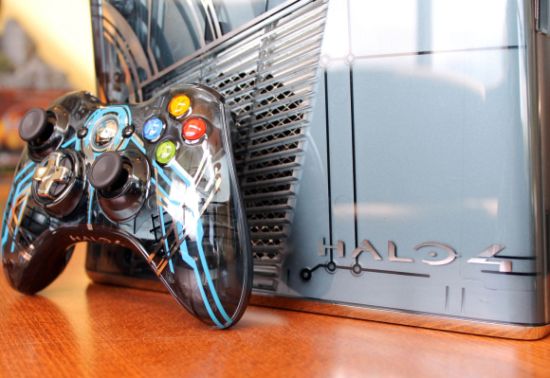 As you keenly look forward to the official release of the upcoming first-person shooter video game Halo 4, folks at Microsoft have geared up to redefine your gaming experience with the launch of a translucent, limited edition Xbox 360 console and controller bundle sometime soon. As Dvice reports it, the Halo 4 Limited Edition console will be an entirely new console with features like custom power and eject sounds, deliberately designed translucent case, insect wings, and the inclusion of blue LEDs on the power button and the jewel on the controller. The controller will come equipped with home button for ease of use.

The fabrication, material and tech processes involved concentrated efforts from Claire Gerhardt, art director Kenneth Scott, Executive Producer Kiki Wolfkill, Tajeen and his audio team. The final design, done in translucent grey plastic, doesn't have superfluous carvings or extrusions and thus, it counters the issues of heat dissipation and Wi-Fi signal strength aptly.
The Xbox 360 Limited Edition Halo 4 Console Bundle includes two exclusive controllers, a standard edition copy of Halo 4, a wired headset and a 320GB hard drive. Other features include built-in Wi-Fi, Xbox LIVE tokens for exclusive Halo 4 in-game, and avatar marketplace downloadable content (FOTUS Armor Avatar Costume, In-Game FOTUS Spartan Armor, Avatar Promethean Crawler Prop, In-game LightRifle Skin and In-Game Unique Unicorn Emblem).
Priced at $399.99 (U.S. ERP), the Halo 4 Xbox 360 bundle will be available this November. The standalone Xbox 360 Halo 4 Limited Edition Wireless Controller will be priced at $59.99 (U.S. ERP), including the United Nations Space Command (UNSC) emblem on a dark grey translucent body and Avatar T-shirt as exclusive downloadable content.
Via:
HaloWaypoint