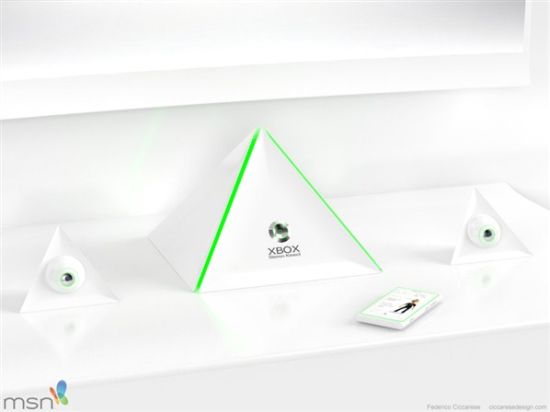 Rumors of a new Xbox console have been causing jitter in the stomach for some time now; however, Microsoft doesn't seem too keen to deliver any anytime before the E3 (Electronic Entertainment Expo) 2013. Till then you can have a look at the Xbox concept by Federico Ciccarese that resembling a pyramid comes integrated with two stereo Kinect cameras and a Windows Phone 8 Smartphone to present a revolutionary design for trendy gamers.
Dubbed as "Xbox 720," the new console concept features a sparkling Metro UI style Xbox Live Dashboard, which possibly is a part of Microsoft hardware, to remove all the clutter and work wirelessly.  Based on a vibrant phosphorescent green theme, which is quite identical to the white and green theme of the Xbox, the Xbox 720 concept sans joystick for a handset (that reminds us of a Lumia 800/900) to allow a complete control over the virtual world.
The hi-tech Xbox concept may appear too advanced to go with current standards; however, the radical design definitely gives us a fair bit of idea how the futuristic gaming consoles would look like.