Remember the first day when you brought iPhone 5 home and simply fell in love with it. Your iPhone, which has now become an integral part of your life, needs more protection though so that it can continue to serve you in coming days and what can essentially help it in doing so is a rugged iPhone 5 case that ensures iPhone is not hurt in case you drop it off your hands or pockets. We go through 5 such iPhone cases designed to give your iPhone a life insurance.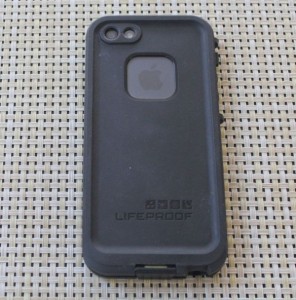 Lifeproof frē
Lifeproof frē is one of the rare iPhone 5 cases that let your phone stay slim and stylish while offering top-notch protection to your iPhone. iPhone 5 is still hardly water resistant and that is where this case offers superior protection to your phone giving it the strength to bear the force of water 6.6 feet under water. You can still expect your iPhone to be safe even if you drop it from 6.6 feet above from ground. Its built-in scratch protector ensures your touchscreen is still responsive and you can access all ports in your phone without the need to remove the case. Lifeproof frē does a great job to make your phone safe while remaining thin, light and attractive. You'll have to shell out $80 to buy one.
Griffin Survivor Case
Griffin Survivor is a case that comes with a military duty case and a belt clip. The case is built on a shatter-resistant polycarbonate frame with rugged and shock absorbing silicone on the top. The hinged ports ensure that your phone remains safe while also being fully accessible. The frame ensures your phone can survive any sort of shock or drop up to 6 feet while the display shield helps to deflect the rain. Available in 13 different vibrant colors the case would cost you $50.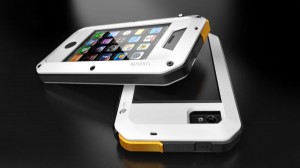 LUNATIK TAKTIK 5
Lunatik Taktik is one of the rare iPhone 5 that looks like a spaceship made from black carbon fibre where you can dock your iPhone. Made of silicone and polymers the case looks very well designed while offering ultra-rugged protection to your iPhone 5. It comes with Corning Gorilla Glass that gives an additional protection to your display, while the high impact ballistic bezels make it shock proof. The phone grips well in the hand and set you off by $124.95.
Otterbox Defender Series
Otterbox is well known company that provides a multitude of protective accessories for mobile devices. The Defender series of cases are made from a polycarbonate skeleton along with a belt-clip holster that can also be used as a viewing stand. Its built-in screen protector keeps your iPhone 5 safe from smudges and scratches while the outer rubber layer makes it shock resistant. The sleek looking case would cost your around $ 46.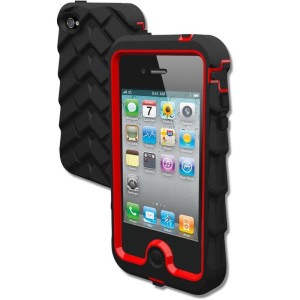 Gumdrop Drop Tech Series
As the name suggests the Drop Tech series of cases keep your iPhone 5 safe even in case you drop it off your hands thanks to its build material. The case offers multi-layer protection and comes with an integrated screen cover. It comes in a number of different colors and fits perfectly on your iPhone 5. The case comes at a price of $44.95.